Generation 3 of the go-to 3D bioprinter for cell biologists, tissue engineers and biomedical researchers.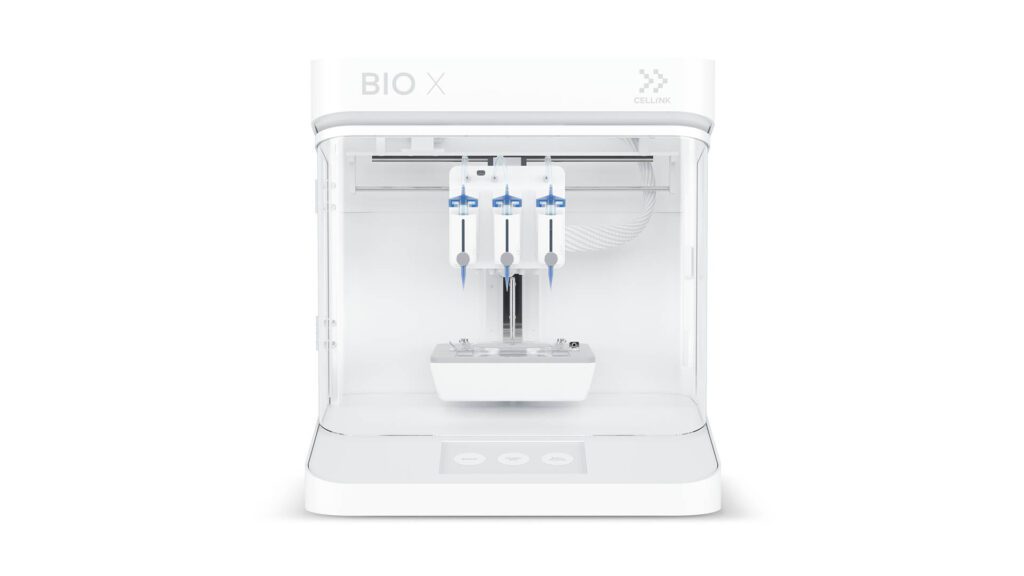 Explore the most user-friendly and flexible bioprinter in the world

Open biomaterial platform
While we offer an extensive portfolio of biomaterials, we understand the necessity and importance to make the BIO X compatible with the widest range of biomaterials available.

Thanks to built-in UV sterilization and a HEPA filter, our patented Clean Chamber™ technology, the BIO X brings the sterility of the biosafety cabinet to the benchtop.

Intelligent Printheads for flexibility
Our range of intelligent printheads brings users of the BIO X the utmost flexibility and interchangeability. The printheads are developed to suit many different biofabrication projects.
Immerse yourself in some of the most recent publications that demonstrate the power and versatility of the BIO X.
Xu, Zhang, Jorgensen et al. (2023) Mater Today Bio 18
The researchers used the bioprinter to print a monolayer round shape with their custom made G-S Hydrogel as a material, in order to create skin repair patches for wound healing.
Zhu, Wang, Ge et al. (2022) Advanced Science 9 (32), e2203711
Using the BIO X to print magnetoelastic sheets with a custom composite magnetic ink, using the software to adjust the printing parameters to suit the ink's viscosity.
Matthiessen, Jury, Rasti Boroojeni et al. (2023) Science and Technology of Advanced Materials 24(1)
Developing an engineered hyaluronan hydrogel to facilitate the 3D cell culture of astrocytes with the syringe pump printhead.
Generation 3 of the BIO X harnesses the power of the most advanced bioprinting software available today.
Advanced functionality and versatility
Streamline your workflows in a wide range of application areas.
The BIO X's compatibility with virtually any material makes it the bioprinter of choice for industry leaders at the forefront of today's biggest scientific breakthroughs. Whether you are automating 3D cell cultures, developing complex tissue constructs or testing new drug compounds, the BIO X 3D bioprinter has the advanced functionality and versatility to streamline workflows in a wide range of application areas.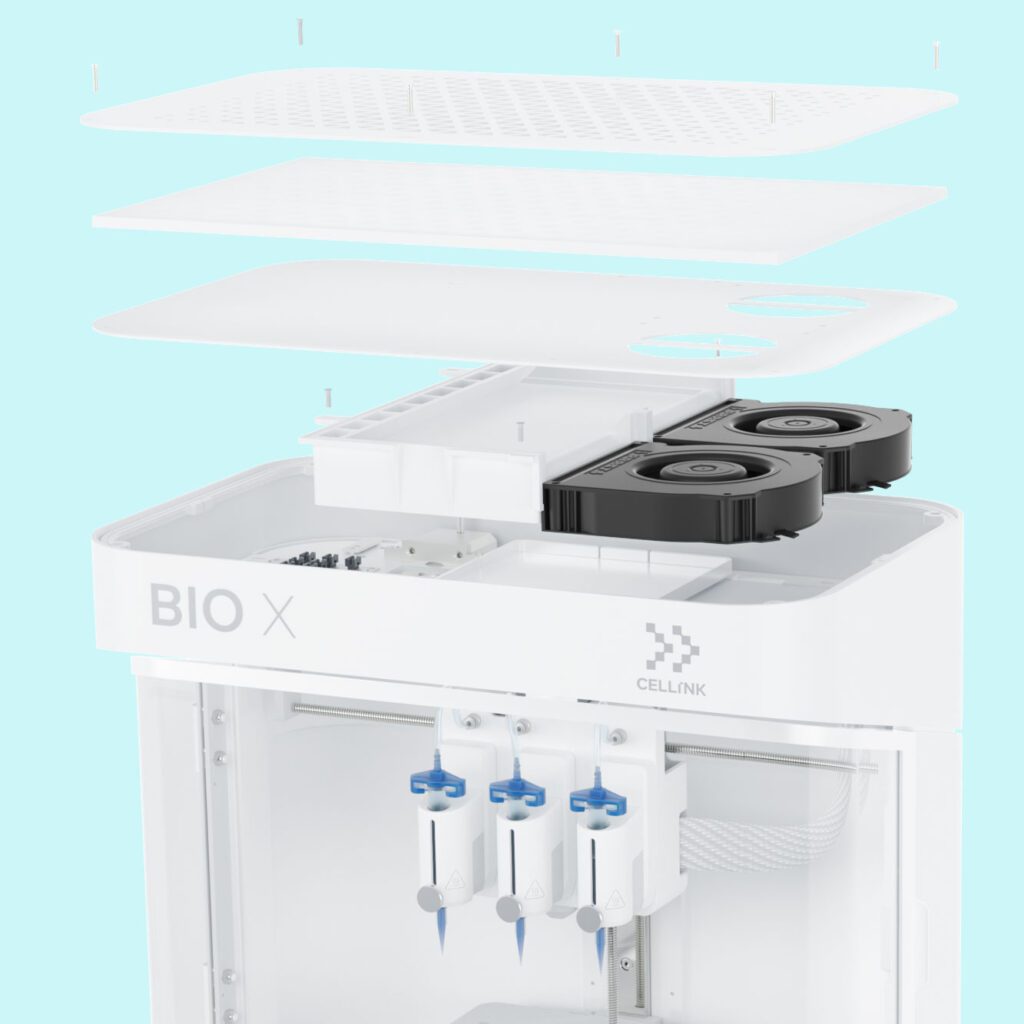 Patented Clean Chamber for better cell safety
Built-in UV sterilization and a HEPA filter bring the sterility of the biosafety cabinet to the benchtop.
Dual high-powered fans channel air through a HEPA H14 filter to remove 99.995% of unwanted particles and microorganisms as part of the Clean Chamber™ technology, which also includes UV-C germicidal lights, rounded edges and positive air pressure.
Initiate Clean Chamber before beginning your experiment to ensure full sterility around the print area for the duration of the print.
Open material platform, bioprint with the widest range of materials
Universal biomaterial compatability
We offer an extensive portfolio of bioinks but understand the importance of material development, which is why we built the BIO X to be an open system that is compatible with the widest range of materials available. Start developing your own bioinks with our high-quality bioink development products or explore our ready-to-print bioinks.
Excellent temperature control
Bioprint with a wider range of materials and cell types thanks to precise printhead and printbed temperature control.
With a printhead temperature range of 4°C to 250°C and a printbed temperature range between 4°C and 65°C, enjoy precise control of temperatures when working with temperature-sensitive materials like collagen and gelatin. The possibilities are limitless when you are able to work with a wider range of materials and cell types.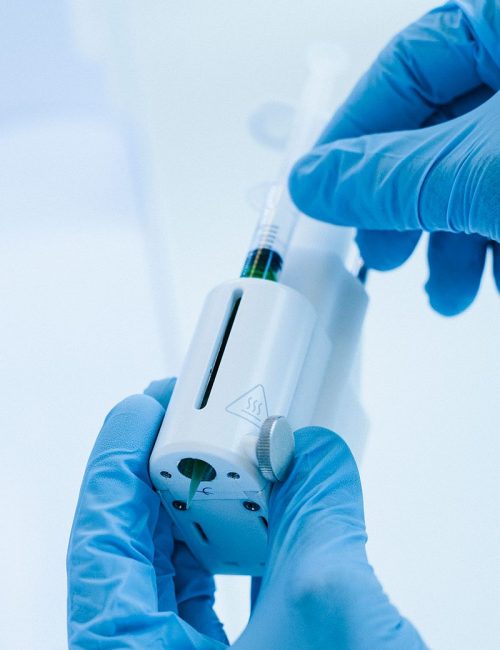 Grow your research with multiple, interchangeable, Intelligent Printheads
BIO X is the first 3D bioprinter in the world with Intelligent Printheads (iPH), ensuring your research is always at the forefront.
With an ever-growing list of Intelligent Printheads, the possibilities are limitless, giving you more freedom to push your research further. Our family of intelligent printheads is always growing. Each printhead system is made to suit different biofabrication application, which helps ensure the best possible result for your 3D bioprint.
The BIO X's exceptional features maximize versatility to enhance your success in the following application areas and beyond.

Three-dimensional cell cultures offer multiple advantages over 2D cell cultures, including the precise geometrical arrangement of multicellular constructs that can better recapitulate the native 3D human physiology. Extrusion-based bioprinters such as the BIO X offers great flexibility when designing 3D cell culture systems, as they allow researchers to precisely control geometries and the spatial patterning of cells and other biomaterials.

The merger of bioprinting and microfluidics opens the door to on-demand and personalized organ-on-a-chip models and may replace many preclinical steps in future drug trials. The BIO X, combined with microfluidic systems like the VasKit perfusion system allow for complex organ-chip models; and multi-printhead technology can be used in a one-step fabrication design with spatial heterogeneity of tissues.

Tissue models and engineering
The BIO X allows for 3D bioprinting with up to three printheads, enabling multi-material and multi-cell flixbility during small and large tissue engineering. The world's your oyster.

Bioprinters can do more than print with cells, they can also be used for fabricating hydrogel drug encapsulation and extended-release technologies. The BIO X bioprinter offers a variety of printheads that are compatible with different hydrogels. Drugs and bioactives can be mixed within the hydrogels and printed in patterns such as large patches or micrometer-sized beads.

Biohybrid soft robotics is an emerging field that combines material science, biomechanics, sensing, and cells. The advantage of utilizing 3D bioprinting is the ability to fabricate systems with precise geometries and spatial patterning of cell types. Such systems can be further integrated or bioprinted with advanced nanomaterials and biosensors to enable more diverse controls and functions.
Reducing the barriers to purchase
Select from our various financing options, or reach out to learn more about refurbished options for a sustainable option to get started with your bioprinting.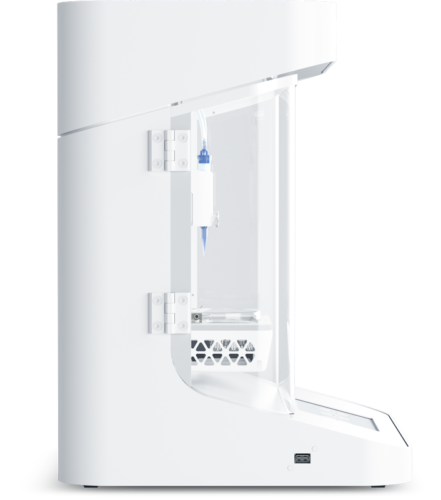 | | |
| --- | --- |
| Outer Dimensions (L x W x H) | 477 x 441 x 365 mm |
| Weight | 18 kg |
| Build Volume | 130 x 90 x 70 mm |
| Build Surface Compatibility  | Multi-well plates, petri dishes, glass slides |
| Resolution XY | 1  μm |
| Layer Resolution | 1 μm |
| Pressure Range (internal pump) | 0-200 kPa |
| Pressure Range (external air supply) | 0-700 kPa |
| Printhead Slots  | 3 |
| Photocuring Sources (built-in) | 365, 405, 485, 520 nm |
| Printbed Temperature Range | 4-65 °C |
| Printhead Temperature Range | 4-250 °C (printhead specific) |
| Filter Class, Chamber Air-flow  | HEPA 14 |
| UV-Sterilization  | UV-C (275 nm) 20 mW output |
| Calibration Options  | Manual and Automatic |
| User Interface  | Integrated Display, DNA Studio |
| OS Compatibility  | Windows |
| Connectivity  | USB Storage, Ethernet connection |
| Supported File Formats | .gcode, .stl |
Ready to create the future of health?