Lighting up high resolution, high throughput 3D bioprinting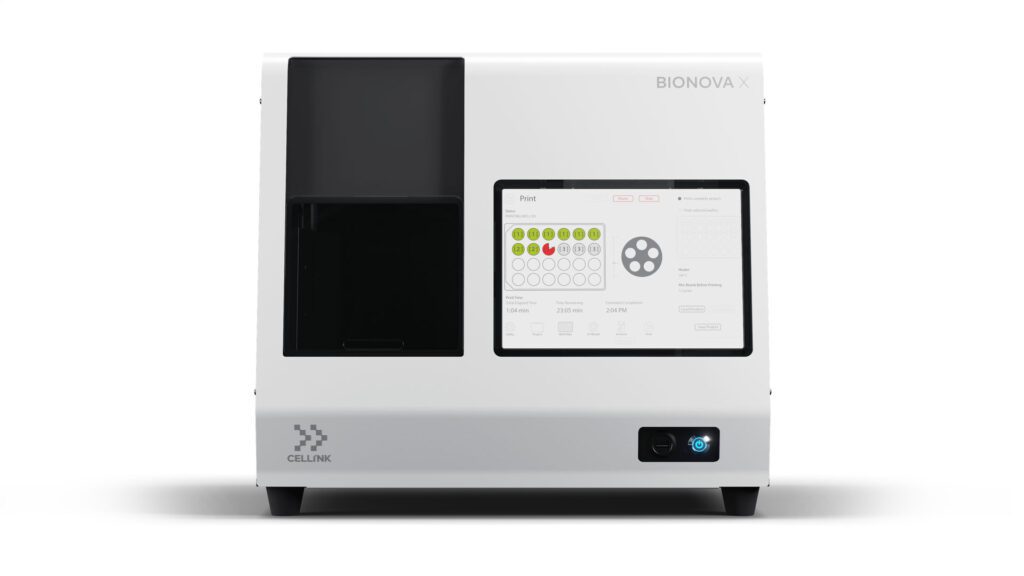 Unleash the power of light printing
Designed with usability in mind, the BIONOVA X enables high resolution live cell printing, a new frontier in light-based 3D bioprinting.

For the first time ever, bring the power of DLP 3D bioprinting directly to multi well plates, up to 96 wells, ideal for high throughput applications.

With 10μm feature resolution the BIONOVA X is the most accurate DLP 3D bioprinter available. Effortlessly model microarchitecture, vasculature, and complex geometries.

Utilizing a patented continuous printing technology the BIONOVA X possesses unparalleled speeds without sacrificing print fidelity.
Discover Advanced Mode, an optional addition to the BIONOVA X, bringing welcome features to take light-based DLP bioprinting to unprecedented heights.

Using a 405nm light source, ensure minimal damage to cells during printing.

Provide optimal printing conditions for your bioinks and cells thanks to onboard temperature control.

No tedious alignment or focusing processes required.
Watch this short video to learn more about how the BIONOVA X works.
A new frontier in biomedical research
From medical images to 3D models, develop personalized constructs

Intuitive workflow and setup
Leverage biocompatible materials that promote cell proliferation
Effortlessly recaptiulate in vivo biomechanical properties

Multi-stiffness constructs​

Multi-material compatability
Control microarchitecture to recreate disease like conditions
Drive vascularization for more meaningful tissue engineering

Consistent fabrication of lumen-like structures

High-speed printing for cell-based constructs
Bioprinting human microheart models for precision medicine and drug discovery.
This in-depth application note demonstrates how leveraging the continuous printing mechanism unique to the BIONOVA X enables biofabrication of physiologically relevant cardiac constructs capable of enhanced maturation.
3D Bioprinting technology ​
Direct in-well layerless printing with digital light projection-based technology ​
Printing resolution (XY) ​
10 μm ​
Z-precision (motor driven) ​
4 μm ​
LED wavelength ​
405 nm (FWHM ±7.5nm)​
Intensity range ​
4- 16 mW/cm2 ​
Heater temperature ​
Room temperature to 60 °C ​
Well plate format ​
96 well plate, 24 well plate, 12 well plate, 6 well plate ​
Build volume ​
  96 well plate
Ø 3 mm x 5 (Z) mm
24 well plate ​
63 mm2 (Ø 9 mm) x 6 (Z) mm ​
12 well plate ​
9 mm (X) x 9 mm (Y) x 9 mm (Z)​
6 well plate ​
19 mm (X) x 10 mm (Y) x 9 mm (Z)​
Display ​
10" touch screen, glove friendly ​
Connectivity ​
1x USB port (type A) ​
Software ​
On-board software ​
Support file types ​
.stl, .png, .bmp, .jpg ​
Sterility ​
UVC sterilization of chamber (270+-10 nm) ​
Dimensions ​
20.3" (W) x 15" (D) x 17.4" (H) ​ 515 mm (W) x 380 mm (D) x 441 mm (H) ​
Weight ​
90 lbs (41 kg) ​
Power supply input ​
100-240VAC, 50-60Hz, 200W ​
A new standard in DLP bioprinting